Curriculum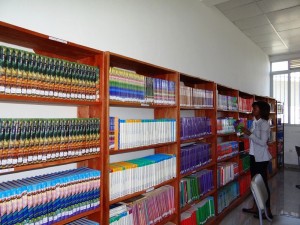 Gitega International Academy strives to be the premier academic institution in Burundi.  The Academy's academic program offers a solid foundation in Leadership, languages, computers, mathematics, natural sciences, humanities, and the arts.  Our rigorous curriculum not only prepares students for a top quality university education, but also promotes a passion for learning and prepares them as leaders for the future of East Africa.
In the 2014-2015 school year, grades 7 through 10 were offered.  One additional grade has been added ever since in each consecutive year and by 28th August, 2016 the school was running a full High School course from Grade 7 to Grade 12 with a total population of 259 students.  Each school year consists of two semesters: Semester 1:September- December and Semester 2: January – June with an Easter Break in April.
Subjects
Leadership, English, Composition and Literature, French, Kirundi, Mathematics, Physics, Chemistry, Biology, Typing, Computers, Geography, History, Biblical Studies, Business Education, Political Science and Civics, Communications, and Art/Music, Human Anatomy, Human Physiology, Psychology, Astronomy, Drama and Public speaking.
Grade 7-8
Students focus heavily on English language courses during the first term of these school years.  Computer and information technologies are also
stressed, giving our students adequate tools for discerning and analyzing the complex global strategies and communication trends of our modern world.  English and Integrated Communication and Technology courses continue to be taught each term throughout all years a student is enrolled at GIA.
Grade 9
In Grade 9 we ensure that the students have a well rounded education and a strong foundation for specialized learning and scholarship.  Year 9 has no particular focus, which allows for the students to concentrate on the core subjects.
Grade 10
This is the first opportunity for students to have an input in the direction of their education.  Students are given course options that diverge from the static core selection offered in previous years, allowing for specialization and the beginning of a specific academic portfolio, which is tailored to each student's own ambitions.
Grade 11-12
Students have further opportunities to excel and specialize.  Upon graduating from the academy, students take internationally recognized exit exams, which are chosen and administered to ensure recognition of our students by elite universities across the globe.  Graduating students are well-prepared to receive a top quality university education, which helps ensure that GIA graduates become the future leaders of Burundi, East Africa, and the global society. In Grade 12, students take an SAT exam, which is fundamentally a prerequisite for applying and studying in American and other renowned  universities.