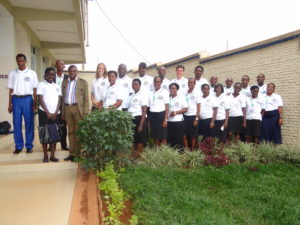 Gitega International Academy is blessed with hardworking, born-again, self-sacrificing missionary teachers. Our school seeks to have on board 100% vision and mission oriented staff, whose main impetus of being part of the family is service to God and the young people under our supervision. We seek to grow altruistic, visionary, christ-oriented, Godly generation that will serve the future societies with heartily love, wisdom and strong hands. As such, we encourage our staff to apply Christ-like attitude in both their personal and professional lives to positively impact the children. To make our staff more comfortable, the school provides to its level best to offer the following  to its staff:
Travel and communication allowances.
Fully furnished shared accommodation.
 Balanced quality breakfast and Lunch at work.
70% medical cover with Solis Insurance.
Transport to and from work.
2-week Christmas, 1-week Easter and 2-month Summer Holidays.
Annual salary increment.
Our staff exemplifies the standard of excellence and integrity that we cultivate in our students.
CURRENT OPEN VACANCIES.
LOCAL HIRES (BURUNDIANS)
ACCOUNTANT
Minimum Qualification
A professional with at least a Bachelor's Degree in Business Administration or Accounting or Business Studies from a reputable institution with an experience of at least 2 years as an accountant. Should be computer literate.
LIBRARIAN
Minimum Qualifications
A Bachelor's Degree in Library and Information Science is required. Previous experience as librarian or library staff for at least 2 years is required.
1 HOUSE MOTHER AND 1 HOUSE FATHER.
A Bachelors Degree or Diploma in Education is required. Past experience working as a teacher or with teenagers is required.
FOREIGN HIRES – FROM ENGLISH SPEAKING COUNTRIES.
1 ICT TEACHER.
A bachelors degree in Education with IT or Computer Science or Information and Computer Technology or any IT related qualification is required. A 2 year teaching experience is required. Excellent communication skills. Holders of a CISCO certificate  are highly encouraged to apply.
1 Maths and Physics Teacher.
A Bachelors Degree in Education (Maths/Physics) is required. A teaching experience of not less than 2 years is required. Excellent written and verbal communication skills.
1 CHAPLAIN (BOTH FOREIGN AND LOCAL)
A Bachelors degree in Theology or religious studies is required. Practicing Protestant pastors highly encouraged to apply. Mature Christians with a proven clean integrity record.
Deadline of Application.
This are urgent positions. The deadline of application is 15/08/2017. Any applications later than this date shall not be considered for this posts. They could however be considered for future opportunities.
Qualified and interested candidates should apply on or before the deadline to gitegainternationalacademy@gmail.com
Gitega International Academy recruits from time to time. Teachers applying should be from English speaking countries; with at least 2-year teaching experience in an international school; holding a Bachelor's Degree (Second-class: Upper Division) with at least two teaching subjects. Volunteers from around the globe are open to apply all through the year.  If you are interested in a future opening, teaching position or wish to inquire about our facilities, pay scale, or campus, please email us at gitegainternationalacademy@gmail.com