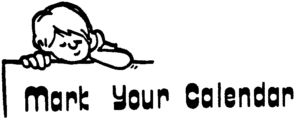 The following are important dates and events highlighted in the school calendar:
During this semester, these activities shall be carried out:
Fire-fighting drills.
Emergency procedure drills.
ACSI tournament in Kampala Uganda in February.
Martin Luther King Poetry contest at American Corner- Gitega ( Interested students to prepare their poems during the Christmas holiday and submit them immediately upon arrival for semester 2)
GIA End of Year Examinations
End-year exams will kick off on  Monday, May 29, 2017.
---
Students shall sit for their practical exams from  23rd – 29th of May 2016, and their theory exams from 30th of May to the 6th of June 2016.

Note:
Students with fees arrears, are expected to have completed payment before the beginning of their theory papers.
No student will be allowed to sit for exams unless they have been evidently cleared by the Accounts Office.
Parents knowledgeable of the arrears are also asked to arrange to make payments with immediate effect.
GIA Christmas Ushering-in night:

This semester, a glamorous Christmas party was held at GIA with a variety show constituting Drama,Poetic recitals, Praise and worship songs, acappella and Traditional Dance. A display of talents graced the night in which the Parent's council led by its chairman, His Lordship Hon. Freddy Mbonimpa the Mayor of the City of Bujumbura.
GIA Grade12 Graduation.
This is scheduled for June 17, 2017. More updates shall follow in due course.
GIA Closing Day
The institution closed for Semester 1 and vacated for the Christmas holiday on the 17th December, 2016, and Semester two shall close on Saturday, August 17, 2017 after grade 12 graduation party. The report cards shall be ready for pick-up on the same day as parents come to collect their children. This shall be the first ever graduation for the school and all parents are welcome to share with us this auspicious moment. 
GIA's Semester 2 Opening Day

Semester Two shall open on Sunday, January 8, 2017. All fees are to be deposited in the school bank account and parents need to avail the deposit receipts upon arrival.
SAT Tests for Grade 12
Grade 12 students are hereby informed that their December 3,2016 SAT scores are already available on their college-board accounts. This being our first ever class to attempt such an international exam, we pride ourselves and glorify the Almighty God for the satisfactory performance.
Grade 11 students shall embark on  a serious preparation program for the same as from January upon resumption for the second semester. The examinations shall still take place @ Kigali International Community School in Rwanda.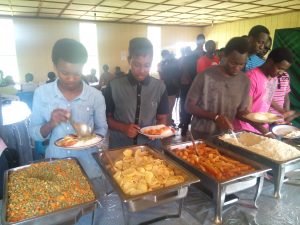 Grade 12 students serving lunch at Rwanda Youth For Christ.