GIA'S VISITING DAY & PARENTS GENERAL ASSEMBLY MEETING
GIA'S VISITING DAY & PARENTS GENERAL ASSEMBLY MEETING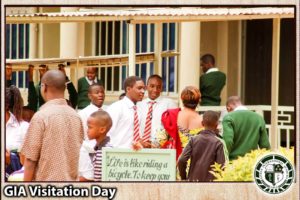 This weekend, as GIA we hosted our parents for the Gitega International Academy visiting day which happens every first week of the month. The students were happy to receive their parents who had come with different types of food to come and share and bond over.
During this day, the parents also had the opportunity to interact with the teachers, so as to know and discuss the progress of their children. Each member of staff was available for consultancy and most were acquainted in ways to be involved in ensuring that their children improve and perform well.
In the afternoon, the Parents General Assembly was held at the meeting room with different members represented from the GIA Board of directors. Present were the following; Mr. Japheth Niyondiko, (Head of Schorlaships, BYFC), Mr. Mbonimpa ( Chairperson of the Board of Governors, GIA), Mr. Leonce Nsengiyumva (Principal, GIA), Mr. Desire Nimumbona (Resident Manager, GIA), William Katumba (Academic Dean, GIA) and Mr. Jean Paul Ntakarutimana (Regional Co-ordinator, BYFC).
The parents got the opportunity to interact and share their concerns and views in relation to the school and their children. The session being an interactive one began at 12-30pm and concluded at 3:00pm.
The visiting day ended at 4:00pm.